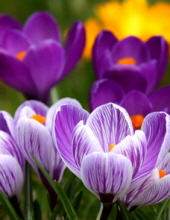 Obituary for Avilda Spring Veirs
Avilda Spring Veirs, age 48, of Mt. Vernon, Missouri, passed away at 1:45 p.m. on Sunday, June 10, 2018, at her home. She was born January 21, 1970, in Fresno, California, the daughter of Thomas and Carye (Quillin) Veirs.

Avilda is survived by her three daughters, Chelsea Veirs of Republic, Missouri, MeagenVeirs and Taylor Veirs of Mt. Vernon; three brothers, Jason Veirs and Albert DeClue of North Carolina and William DeClue of Mt. Vernon; five sisters, Tammie Veirs of Arizona, Amanda Veirs of Sedalia, Missouri, Crystal Williams, Desiree Kirby and Carye Mays, all of Mt. Vernon and three grandchildren.

Her parents, Thomas and Carye, and her brother, Kenneth, preceded her in death.

No services are planned at this time. Arrangements are under the direction of the Fossett-Mosher Funeral Home in Mt. Vernon.

Online condolences may be shared at this website.
Events