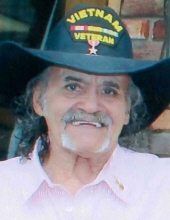 Obituary for William Steven Cardoza
William Steven Cardoza Jr., age 71, of Mt. Vernon, Missouri, passed away at 8:07 p.m. on Wednesday, December 20, 2017, at the Mt. Vernon Place Care Center. He was born October 12, 1946, in Modesto, California, the son of William and Rose Marie (Ferrea) Cardoza Sr.
Bill was a 1964 graduate of Davis High School in Modesto, California. He was a United States Army bronze star decorated Veteran, serving during the Vietnam Era. He and his father worked together for years as hoof trimmers in California. Bill had a 1970 Chevelle and was an avid drag racer.
On November 14, 2014, he married Linda Hill, his beloved wife, in Mt. Vernon.
Bill is survived by his wife, Linda; one daughter Cameron Cardoza of Mt. Vernon; two grandsons, Joel Newton and his wife, Megan, and Kyle Newton and Raven Hatley; one great- granddaughter, Amanda Rose Marie Newton; one sister, Judy Kalunie and her husband, Rodney, of San Jose, California.
His parents, William and Rose, and sister, Shirley Cardoza, preceded him in death.
A funeral service will be held at 6:00 p.m. on Friday, December 29, 2017, at the Fossett-Mosher Funeral Home in Mt. Vernon. Visitation will be held from 5:00-6:00 p.m. on Friday, in the funeral home chapel.
Online condolences may be shared at this website.
Previous Events
Visitation
Fossett-Mosher Funeral Home
510 E. Cherry St.
Mt. Vernon, MO 65712
Funeral Service
Fossett-Mosher Funeral Home
510 E. Cherry St.
Mt. Vernon, MO 65712