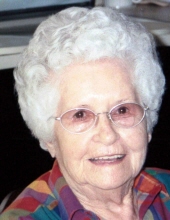 Obituary for Eva Lorene Vandergrift
EVA LORENE VANDERGRIFT
Eva Lorene Vandergrift, age 98, of Mt. Vernon, Missouri, passed away at 1:20 p.m. on Monday, December 11, 2017, at the Mt. Vernon Place Care Center. She was born January 26, 1919, in Granby, Missouri, the daughter of George Allie and Mary Adaline (Armstrong) Rice.
Eva was employed at the Missouri Rehabilitation Center in Mt. Vernon for over 30 years working in the dining room and then becoming the dining room supervisor and was a member of the First Baptist Church in Mt. Vernon.
On May 21, 1938, she married Wesley Ray Vandergrift, in Miller, Missouri. He preceded her in death on May 23, 2005.
Eva is survived by her daughter, Barbara Stokes and her husband, Efton, of Mt. Vernon; one son, Walter Vandergrift and his wife, Linda, of Joplin, Missouri; four grandchildren; ten great-grandchildren and 14 great-great grandchildren and several nieces and nephews.
Her parents, George and Mary, husband, Wesley and three brothers and three sisters, preceded her in death.
A graveside service, under the direction of the Fossett-Mosher Funeral Home, in Mt. Vernon will be held at 2:00 p.m. on Thursday, December 14, 2017, at the Mt. Vernon IOOF Cemetery.
Online condolences may be shared at this website.
Previous Events
Graveside Service
Mt. Vernon IOOF Cemetery
Mt. Vernon IOOF Cemetery
Mt. Vernon, Missouri 65712
Cemetery Details
Location
Mt. Vernon IOOF Cemetery
Mt. Vernon IOOF Cemetery
Mt. Vernon, Missouri 65712