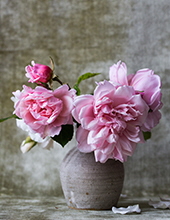 Obituary for Pauline Cox
Pauline Lola Cox, age 79, of Miller, Missouri, passed away at 6:14 a.m. on Thursday, October 5, 2017, at the Mt. Vernon Place Care Center.  She was born August 1, 1938, in Miller, Missouri, the daughter of Hugh and Mary Elkins.



Pauline was a graduate of Miller High School and was a waitress for the Hilltop and Crossroads Cafe's in the Miller area and Mexican Villa Restaurant in Springfield, Missouri.



She married Bill Cox and he preceded her in death in 1995.



She is survived by two sons, Danny Evans of Miller, Missouri and Dwight Evans of Springfield, Missouri; four grandchildren and five great-grandchildren.



Her parents, Hugh and Mary, husband, Bill, sister, Wanda Smith and brother, Gene Elkins, preceded her in death.



No services are planned. Arrangements are under the direction of Fossett-Mosher Funeral Home in Mt. Vernon.



Online condolences may be shared at this website.