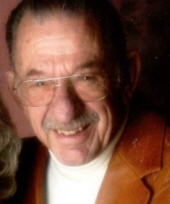 Obituary for Homer Leroy "Bud" Craig
Homer Leroy "Bud" Craig, age 89, of Mt. Vernon, Missouri, passed away at 10:35 a.m. on Friday, November 3, 2017, at his home.  He was born June 24, 1928, in Denver, Colorado, the son of Homer Luman and Ruth (Tinkerman) Craig.



Bud spent the summer of 1945, in the Oregon forests as a lookout for the Forest Service.  He graduated in 1946 from Portland High School, in Portland, Oregon.  After high school, he enlisted in the United States Army, and was stationed in Japan as part of the occupation forces following the end of World War II. 



In 1954, he began his career at the National Cash Register Company working as a service technician.  In 1967 Bud and his family moved to Springfield, Missouri.  On August 24, 1985, he married Wanda Bolin in Monroe, Washington.  In 1994, he retired so he had more time to spend on his hobbies, including riding motorcycles.



He is survived by his wife of 32 years, Wanda; three daughters, Mindy Hutchison and her husband, Brandt,  of Hobbs, New Mexico, Annette Shryer and her husband, Greg, of Springfield, Missouri and Janelle Miller and her husband, Mike, of McPherson, Kansas; one son, Derrel Craig and his wife, Marie, of Bothell, Washington; one brother, Bob Craig and his wife, Carolyn, of Medford, Oregon; brother-in-law, Richard Tuck, of Monroe, Washington; eight grandchildren, 11 great-grandchildren and several nieces and nephews.



His parents, Homer and Ruth, son, Leroy Craig, daughter, Kathleen Craig and sister, Barbara Tuck, preceded him in death.



A graveside service, under the direction of the Fossett-Mosher Funeral Home, in Mt. Vernon, will be held at 1:30 p.m. on Wednesday, November 8, 2017, at the Mt. Vernon IOOF Cemetery. Visitation will be held from 1:00–1:30 p.m. on Wednesday, at the cemetery.



Online condolences may be shared at this website.
Previous Events
Visitation
Mt. Vernon City Cemetery
Mt. Vernon City Cemetery, Mt. Vernon, MO.
Mt. Vernon, Missouri 65712
1:00 - 1:30 p.m. on Wednesday, November 8, 2017
Cemetery Details
Location
Mt. Vernon City Cemetery
Mt. Vernon City Cemetery, Mt. Vernon, MO.
Mt. Vernon, Missouri 65712